Laugh uncontrollably, quack like a duck…
Tom DeLuca is a leader in the art of hypnosis! His talents in the corporate world have been recognized nationally for many years. Tom is always redefining his talents and sculpting his shows to stay up with current trends in his industry — so when he wanted to update his website with a new video to showcase his corporate hypnosis show, Tom came to us for help.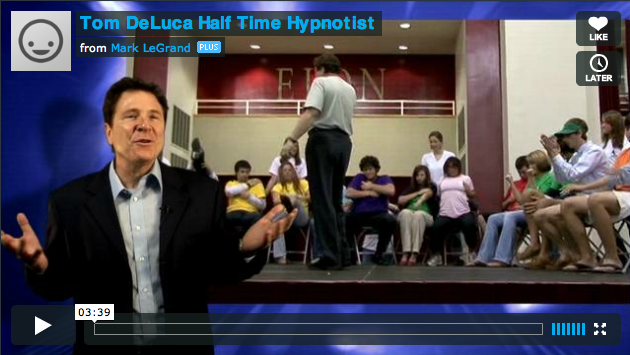 We first met with Tom a few years back when he called on us to help with his media needs, so we were already familiar with his style and technique. Tom travels all over the country and performs for all types of businesses and conventions and is typically brought in to motivate, entertain, relax the participants, and open them up to being creative and imaginative. Many times the client will film the event and Tom was able to get ahold of some of his performances, so that we could use a few clips of the footage to create the video he needed.
The challenge for us, was that all the performance footage was shot by local talent at the various venues around the country, so we weren't present and in control of how things were filmed, etc. We were able to pull from that footage and shoot some additional footage with a green screen and voice over, to create the video Tom was looking for. The video is presently on Tom 's website and is an important tool to promote his services to future clients! And if you were ever at one of Tom DeLuca's performances and don't believe you we're quacking like a duck or laughing uncontrollably, well there just may be proof on this video, so check it out!